Water surges through Rotorua pharmacy in wild weather
+Print Archive
NEWS
Water surges through Rotorua pharmacy in wild weather
Thursday 31 May 2018, 12:00 PM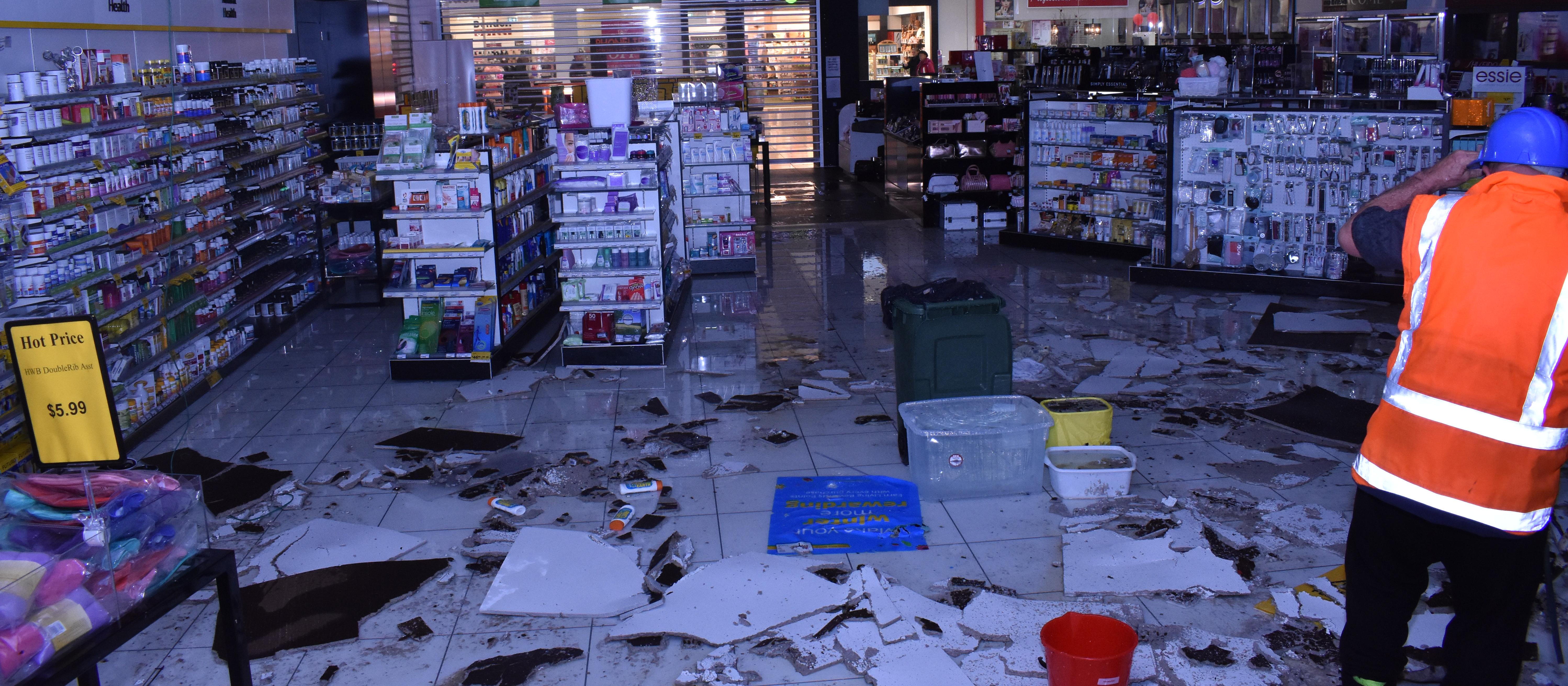 Sunday 29 April began like a typical weekend shift for Life Pharmacy.
Rotorua owner Brett Fordyce who noticed a small puddle on the floor when he was preparing to open the shop.
Mr Fordyce began mopping up the water and, although torrential rain was falling outside, he never anticipated what was about to happen.
Within 20 minutes of the pharmacist arriving at work, a surge of water poured into the Central Mall store through the roof, drenching stock and furniture.
The deluge was so powerful it pulled down ceiling tiles, leaving a gaping hole above the business.
"It is really quite unbelievable how much damage has been caused," says Francis Dragicevich, who is Mr Fordyce's wife and business partner.
Ms Dragicevich, who has owned the business with her husband for 18 years, estimates the water has caused tens of thousands of dollars' worth of damage, maybe more. OTC stock and beauty products were hardest hit, but the dispensary surprisingly managed to escape unscathed.
"We keep our dispensing robot on a special box and we don't keep any stock on the floor, so we were lucky nothing in the dispensary was damaged," she told Pharmacy Today.
The National Institute of Water and Atmospheric Research confirmed Rotorua had its wettest hour on record on 29 April, receiving 51.8mm of rain between 10am and 11am, with a total of 167.8mm falling that weekend.
A state of emergency was declared at nearby town Ngongotaha after a stream burst its banks, forcing people to evacuate from their flood-ravaged homes and businesses.
The pharmacy team managed to assist methadone clients and dispense urgent prescriptions, despite working in what Ms Dragicevich describes as a "hazard zone" with contractors and insurance assessors moving in and out of the store all day.
"The inconvenience has been the hardest part to deal with; we have our staff in high-vis shirts and hard hats and we have to induct every person that comes onto the site."
From what Ms Dragicevich understands, the flood was caused by a blocked pipe which left the water with nowhere to go except through the channels in the roof to subsequently fall directly over the pharmacy.